SAP Application Management & Support
---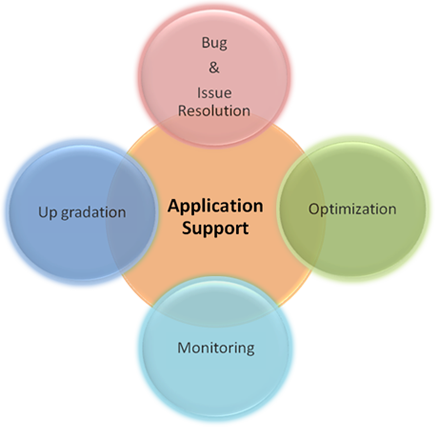 We also extend our Support once you are live with SAP
Optimizing best practices by addressing processes, people, business drivers and technology to improve business values.
Providing various support levels after implementation.
Issue and SLA management through our internally developed web-based Issue Tracking Tool.
Access to a team of experienced business and SAP experts (COE) for any specialized support .
Application up-gradation services, Roll-out services and functionality enhancement services .
This along with our knowledge and quality management practices & effective problem solving techniques & development methodologies ensure success of these projects. We also offer support services after implementation focusing on a structured approach to solve time-sensitive and critical issues.
We can provide an end to end service solution by engaging with experts across our wider capabilities which could include:-
24x7 Support desk- 24x7 support services via a team of experienced domain specialists to keep your system running at peak efficiency resulting in streamlined processes, more satisfied users and a positive bottom-line.
Dedicated support desk - Efficient support services via a dedicated onsite team (Front office) along with dedicated/shared offsite team (Back office) for critical business operations
Ticket based support- Cost effective support services for a stable environment with predictable number of tickets
Process Support- Support services for specific SAP technical or functional modules for mature business environments
We can provide an end to end service solution by engaging with experts across our wider capabilities which could include:-
We work closely with your business to provide both proactive and reactive support & development services, in both technical and functional aspects. We perform routine daily, weekly and/or monthly tasks, covering the activities required to maintain the agreed levels of service availability. These tasks can include database maintenance, spooling and printing, performance monitoring and enhancements, system tuning and transports. We can also provide application support to nominated members of your staff, via incidents raised with our Service Desk. Each call is assigned to a member of our application consultant team, who will liaise with your own first line support staff or users, to resolve any problems and provide advice and guidance as required on key functional issues. Fourth Line Support can also be managed via direct liaison with SAP Service Marketplace on your behalf.
IPEX provide a team of dedicated and highly skilled engineers with proven expertise to design and manage your infrastructure and SAP applications, ensuring your IT environment is responsive and meets the requirements of your business. With over one hundred SAP clients our reputation as a trusted advisor and partner is built on long-term, stable customer partnerships allows you to engage with confidence.
Help desk
Application Support
Technical Support